Measurement system basing on the concentrator LB-731
---
control of:

temperature,
air humidity,
barometric pressure

used for big objects
registration
alarm signaling
---
The document introduces possible versions of the measurement system, built basing on the concentrators LB-731. In each one of those versions the concentrator realizes a direct data receiver function from the sensors. The data collected by the concentrator LB-731 can be registered in it and analyzed in the scope necessary to recognize the alarm situations (exceeding allowed limits, equipment failure).
Each concentrator is equipped with a data interface allowing on attaching it to a supervisory system. In a basic version the series port working with the speed 9600 bps is the interface. By using the interface one can pass the actual measurement data, read history, set the alarm limits. The simplest way of realizing a system consisted of many concentrators is done by connecting all of them to one computer equipped with a multi port card RS-232C or the series ports switch.
The picture no.1 illustrates the concentrators collecting data from the sensors in three warehouses. Each one of the concentrators is connected to an operator's computer (work station) using separate cables. The operator can control concentrator's work using an adequate program, which services the concentrators.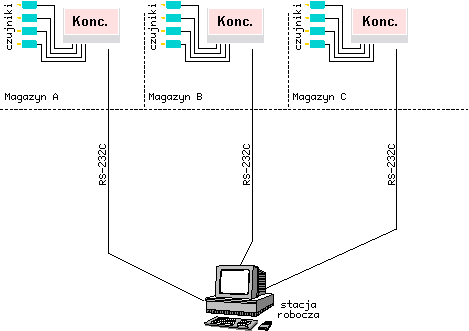 Picture no.1
A similar functional system version can be obtained when the concentrators are equipped with an ethernet port. The existing LAN 10BaseT cabling can be used as a communication link. Each one of the concentrators has its own IP address and functions as a network server (service TCP). An example network basing on the ethernet connections is shown on the picture no.2. The operator using a work station has access to any one of the concentrators. Any computer working in the network (but only one at the same time) can be used as an operator's console.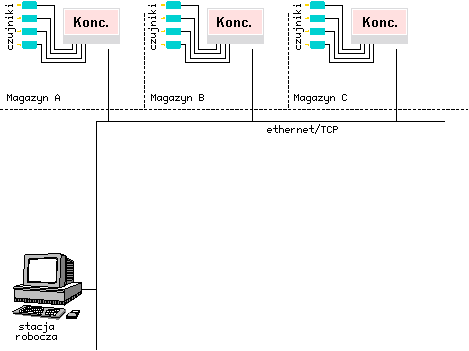 Picture no.2
A measurement network extended for multiple access data visualization and alarm system is presented in the last example (picture no.3). In this type of solution there is a separate computer used as a server, which has immediate access to all of the concentrators (series connection or ethernet). The server's software communicates with any LB-731, monitors the measurement results, their status, keeps registry records. The operators use computers working in the network and can supervise the work of a measurement network using a standard www explorer. The system allows on defining the alarm conditions (exceeding the temperature alarm limits) and when they exist the operator is notified about it by a SMS or e mail. An additional set control function is the possibility of measurement data exploration using WAP explorer. SMM is a practical realization of the described system.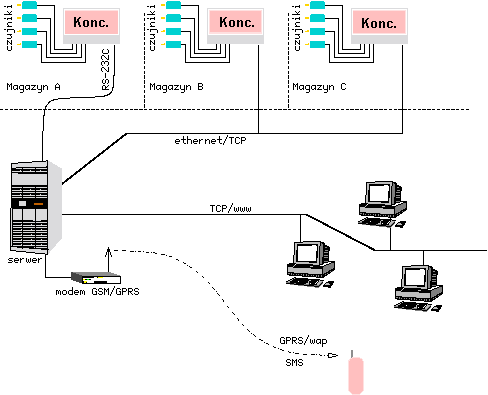 Picture no.3
---
---