Freezer work supervision using a panel LB-707
SMS alarming
data registry through Internet/GPRS

temperature, (optionally: humidity, pressure, dew-point)
functions: thermometer, hygrometer, barometer, recorder, exceeds signaler, reading panel
battery and network power supply
interface RS-232C



Application
The system is intended for freezer work supervision, which contain valuable biological samples requiring low temperature (-32°C). The analogous systems can supervise work of the devices or rooms, where it is necessary to control such parameters as: temperature, humidity or atmospheric pressure.
Design
Panel LB-707 is a measurement microcomputer, which serves the outside probes of temperature and humidity. The panel can be also equipped with an atmospheric pressure sensor. Built-in the device GSM/GPRS module allows on wireless communication using SMS messages and a GPRS channel. The panel is equipped with an electronic messages memory, LCD display and a keyboard. In this application the panels cooperate with the temperature probes (single and double). For communication with a factory computer, which collects data, an interface RS232 is used, where in a second room additionally a converter is used, which allows on cooperation with a factory LAN network. The panel is seen by the system as a network device. Using a cellular telephony module the panel sends out package data (GPRS) as well as alarm info by SMS. The outside signaling devices are also connected to the panel.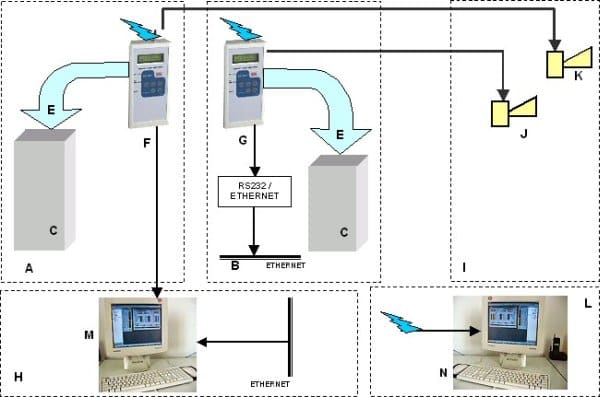 Picture no.1 Freezer supervision visual scheme:


A – room 1 with a supervised freezer, B – room 2 with a supervised freezer, C - freezers, E – internal temperature sensors in the freezers, F,G - panels LB-707, H – factory supervision room, I – porter's lodge, J,K – signaling devices, L - LAB-EL control room, M – factory computer, N - LAB-EL computer with a GPRS receiver

Operation
The system built based on the panel LB-707 is supposed to:
measure actual temperature in the freezers,
register temperature in the freezers,
pass along data to a system and allow on remote supervision of the freezers,
signal locally exceed in the assigned parameter thresholds,
signal to responsible persons through SMS.
The device serves as a logger (recorder) of the measurement data. The measured results are stored in the internal electronic memory and sent by internet network to a remote server using GPRS service of a cellular telephony operator. In energy saving mode the panel switches itself on periodically to perform registry and after it goes back to standby. A user has a possibility of defining the parameters that get included in the registry as well as defining a record interval, or resolution of the stored results. The registry memory capacity depends on the settings and type of memory installed. As an example for a single temperature probe it is 3936 records (with basic memory size).
For each one of the measured parameters it is possible to set few alarm thresholds: one threshold for the exceeds going up, the other one for the exceeds going down. When the measured value exceeds an alarm threshold the panel sends out SMS message with an adequate information. When value of the measured parameter goes back to an allowed interval, the panel sends out information about the alarm's end. Additionally, the following situations are signaled as alarms: lack of network power supply, battery exhaustion, equipment errors. The SMS alarms are sent to maximum 5 users entered into the device memory. The alarms can be sent as well by using Internet/GPRS network to a data server. Data transfer from the panel to a LAB-EL server allows on the freezers' work control from any place using Internet and a PSM system.
Technical data
TEMPERATURE MEASUREMENT

Measurement probe

Scope of measurement
Measurement inaccuracy

LB-701
-40..85°C
+/- 0,1°C, +/- 1 last digit
LB-701T
-40..85°C
+/- 0,1°C, +/- 1 last digit
-150..240°C
+/- 0,2°C, +/- 1 last digit
-200..550°C
+/- 1°C, +/- 1 last digit
LB-754(J/T)
-40..85°C
+/- 0,1°C, +/- 1 last digit
-130..240°C
+/- 0,2°C, +/- 1 last digit
-200..550°C
+/- 1,0°C, +/- 1 last digit
SCOPE OF WORK TEMPERATURES

Device
Scope
Comments
Panel LB-707
0..+50°C
without water out dropping
POWER SUPPLY

Battery

4 batteries LR6 (AA)
Network
stabilized feeder 12V DC
ENERGY CONSUMPTION panel + LB-754 *)

Interface RS232C not active
approximately 6 mA
Interface RS232C active
approximately 18 mA
*) With non active wireless communication module.
RECOMMENDED CONSTANT PANEL LB-707 WORK CONDITIONS *)
Scope of temperatures
10..40°C
Scope of humidity
20..80%
Level of environment corrosion aggressiveness accord. PN-71/H-04651
B
Degree of casing protection
IP 60
*) - Going beyond recommended constant work conditions (i.e. when installing the device in the open space) requires using additional protection means for the device's electronic part so that water out dropping does not start inside of the device.
Interface
Series RS232C, 4 lines (RxD, TxD, RTS, GND), switching on the interface power supply - active stage line RTS form a computer, transmission parameters: 9600 bps, 8 bits of information, without the evenness control, 1 stop bit.
Interface functions
Creates a possibility of reading the measurement results, storing the registry parameters as well as adjusting the device parameters in its non-volatile memory.
Training
A successful system's work is influenced without a doubt by a user's recognition of all the details concerning the work devices' work principle and the methods of choosing the correct parameters. The LAB-EL company organizes for the users, distributors and installers the training courses in the scope of the offered devices.