CARBON DIOXIDE CONCENTRATION METER IGM-0171
---
function: meter of toxic gases concentration in the air
measurement: CO2 concentration (carbon dioxide)
measurement method: NDIR
analogue output 4..20mA or 0..10V
1 transmitter output



---
REMARKS: Meter IGM-0171 was excluded from offer and replaced by LB-850

DESCRIPTION
Meter IGM-0171 is used for measurement of carbon dioxide CO2 concentration content in the free air.
The meter IGM-0171 is a stationary device, of small size, powered from an outside source. The meter is characterized by modern construction based on the NDIR method ( non-dispersive infrared method). It is relays on measurement of attenuation of infrared radiation of a defined wave length put through the measured gas, which is suppressed depending on the carbon dioxide content in the examined gas. The NDIR method assures accurate and stable measurement result as well as failure-free work for many years.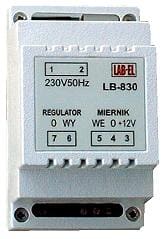 The meter has a digital interface RS-485 used during meter's calibration and for connecting the meter to a digital measurement system. The meter additionally has 1 transmitter output, of regulated work thresholds, in standard switched on with for concentration 2000 ppm and switched off with concentration 1000 ppm. Optionally, depending on a version, the meter has 1 additional analogue output: 4..20 mA or 0..10V.

Additional equipment of the meter is provided by a power pack LB-830 (12V, 100mA, stabilized) that additionally has the systems protecting the meter's analogue output.

Scope of example meter use:
CO2 concentration measurement in the mushroom-growing halls,
control of gas emission in the industry,
monitoring for supervision purposes,
ventilation system work control in various locations.
TECHNICAL DATA
METER MEASUREMENT CHARACTERISTICS IGM-0171
Sensor type
NDIR
Scope of CO2 volume content measurement
0...10000 ppm (0...1 %)
Scope of orientation CO2 indication content
10000...20000 ppm (1...2 %)
CO2 measurement accuracy
+/- 5 % actual indication +/- 50 ppm
CO2 measurement resolution

10 ppm
Standard scope of an analogue output

0...10000 ppm
Meter response time (up to level of 90% )
40 seconds
Meter warm-up time after power supply switch on

3 minutes
MEASUREMENT RESULTS OUTPUTS
Digital output

RS-485
9600 bodes, 8 bits, 1 stop bit, without an evenness bit
Analogue output (optional)
4..20 mA / max. 500 ohm
Meter version: IGM-0171-01
0...10 V / min. 1000 ohm
Meter version: IGM-0171-02
Transmitter output (alarm)

60 V / 1 A
Rwy(ON) <= 0,3 ohm, Rwy(OFF) >= 3 Mohm
Transmitter output hysteresis

ON: 2000 ppm,
OFF: 1000 ppm
levels programmed by through an interface RS-485
WORK CONDITIONS
Scope of environment relative humidity
0...95 %
without steam condensation
Scope of work temperatures
5...50 °C
influence on measurement: +/- 0,25% actual indication to 1 °C

Scope of storage temperatures
0...50 °C


Measured air pressure

84...106 kPa
influence on measurement: +/- 0,8 % actual indication to 1 kPa
Acceptable carbon dioxide content volume in the measured air

0...2 %
Acceptable oxygen content volume in the measured air

0...21 %
Acceptable nitrogen content volume in the measured air

left (refill up to 100%)
Dustiness

maximum 2 mg/m 3
Average time of meter exploitation

8 years


Recommended scope of calibration

1 year
POWER SUPPLY
Scope of voltages / meter energy consumption IGM-0171
12 +/- 3 V / DC
30 mA
Voltage / power of a power pack supply LB-830
230 +/- 15 V / 50 Hz
2 VA
Output voltage / maximum power pack current charge LB-830
12 +/- 0,1 V
100 mA
OVERALL DIMENSIONS, MASS
Meter overall dimensions IGM-0171
91 x 105 x 60 mm
Meter mass IGM-0171
approximately 0,3 kg
Overall power pack dimensions LB-830
91 x 55 x 66 mm
Power pack mass LB-830
approximately 0,2 kg