THERMOGRAPH / TEMPERATURE MINI RECORDER LB-515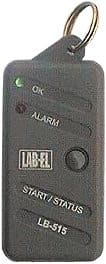 functions: thermometer, recorder (logger, thermograph)
measurement: temperature
temperature monitoring in transport
wide scope of work temperatures
miniature, resistant and dust proof casing
optionally measurement results provided in:


graph in time function
histogram in temperature function
time of exceeding the alarm values
DESCRIPTION
LB-515 is a super miniature temperature recorder, powered from a built-in long lasting lithium battery. The device uses for measurement a built-in semiconductor temperature sensor.
The recorder is equipped with a memory used for storing the measurement results, which i.e. when set for time registry every 60 min lasts for more than 12 weeks of entries in one registry session. It is possible to use the memory in 2 modes: "to be filled" (after the memory is full the registry process is stopped) and "with over storage" (after the memory is full the oldest entries are deleted). The registration is started after a key button on the device's casing is pressed down.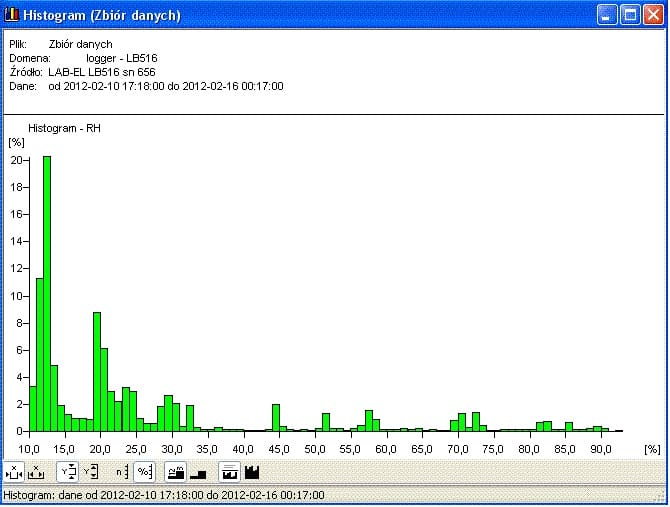 Except from measurement data collection in set registry periods, the recorder LB-515 can create a histogram, which encloses information concerning registration statistics of measurement values in set periods of time. The scope of temperature measurement was for that reason divided into 63 intervals, where each stands for 2°C. There are also other histogram interval widths available. The information from the
histogram allows a user on quick analysis of the measurement results that are performed during the registration process (there is no need to scan the whole content of the device's memory).
The recorder also allows on setting the threshold temperature values (high and low). Exceeding those values during a registration session is signaled (after pressing down a key button) with color light emitting diodes also up to 12 time intervals are registered if low or high temperature thresholds were exceeded.

LB-515 is a wireless device and fully autonomous (it does not require a computer during the registry process). Programming the recorder (i.e. setting the intervals, ways of starting the registration) and the process of reading as well as presentation and printing the entries is done using a computer with an attached to its COM port reading interface LB-514. Data transmission between the recorder LB-515 and a computer is started after running on it a program LBX-500.
Each recorder has a 64-bit unique number stored (programmed by the user name), which allows on device identification.

Each recorder can have an individual calibration certificate issued by the LAB-EL Calibration Laboratory.
Usage
The recorder LB-515 is designed for control and documentation of all technological processes in the production plant, especially in the medical and food branches. It can be used for climate parameters registration when transporting goods sensitive to temperature changes (monitoring during transportation). It can be placed in the boxes containing carried goods. It is especially useful when it is necessary to meet the HACCP standards concerning production quality control and during transportation.
TECHNICAL DATA
TEMPERATURE MEASUREMENT
Measurement inaccuracy
+/- 2 °C
+/- 1 °C
(in the scope -10...40°C)
Scope of measurement

-40..+85 °C
Measurement resolution
0,5 °C
MEASUREMENT MEMORY

Parameter
Scope of readings

Resolution
Capacity
Intervals between measurements
Records of temperature measurement
- "logger"
-40..+85 °C
0,5 °C
2048 records

1..255 minutes
Records of temperature profile
- "histogram"
-40..+85 °C
2 °C
65535 samples

1..255 minutes
Records of exceeding the alarm time
- "alarm"
-40..+85 °C
0,5 °C
2 x 12 records

1..255 minutes
POWER SUPPLY, MECHANICAL DATA

Power supply

3,6V / 195 mAh
lithium battery
Guaranteed time of battery life

10 lat


Overall dimensions

69 x 31 x 14 mm
material casing ABS
Weight

ok. 23 g


Degree of casing protection

IP 30


GOOD CLIMATE IS FAVORABLE