THERMOMETER – HYGROMETER LB-701 with a panel LB-706/G BAROMETER LB-706B/GB
---
functions: thermometer, hygrometer (humidity meter), recorder
measurement: temperature, air relative humidity, dew point temperature, water steam content
optional measurement: barometer pressure (with a panel in version LB-706B)
optionally a probe LB-701T for temperature measurement in the extended scope of different media
portable device, energy saving battery or network powered
built in measurement registry
RS-232 interface
panel LB-706G replaces panel LB-702
---
DESCRIPTION

Panel LB-706 (in versions G, B and GB)
The panel LB-706 cooperates with various measurement probes (sensors) creating a set for measurement of the following values:
air temperature and humidity: cooperation of a probe LB-701 with the panels LB-706, LB-706G, LB-706B or LB-706GB creating a hytherograph, hygrometer(humidity meter) and air thermometer,
temperature: cooperation of a probe LB-701T with the panels LB-706 LB-706G, LB-706B or LB-706GB creating a thermometer,
Processed measurement data is presented on a built in LCD screen as well as stored in the internal memory of history measurements, it can also be sent to an external device using a communication interface RS-232. The interface can be connected to a thermal printer, modem LB-430 for radio transmission GSM/ GPRS or a PC computer. The standard equipment includes: a PC program allowing on visualization of the actual reading on the screen, programming device's settings and reading the registered measurements as well as saving them to a hard disc file.
The panel LB-706 is equipped with a clock used for measurement registry. It also determines when the device is switched on and off in the energy saving mode. It allows on using the device as a portable, one station recorder of: temperature (thermograph), humidity (hygrograph) and optionally air pressure (barograph).

The panel's interface RS-232 allows on entering calibration data during calibration with adjusting. The panel and cooperating with it measurement probes do not have any mechanical regulation elements (i.e. potentiometers, trimmers). Adjusting (calibration, regulation) means sending through a digital interface to device's non volatile memory the calibration data obtained in model climate conditions. It guarantees comfortable adjusting and high calibration accuracy as well as stability of device's meteorological parameters in time.
The user using the accessories program defines the way in which the measurement results are registered in the built in a panel LB-706 memory. The registry configuration is done through:
choosing the writings interval from the scope of 1 minute up to 45 days with 1 minute resolution, or by choosing 0 as an interval which stands for no registry,
choosing one of the mentioned registry modes:

registry with continuation - older data is deleted and replaced by new information,

or registry with a block - registry is blocked after the memory is full,

choosing registry data set (record structure): it is possible to choose any set chosen from the following parameters: temperature, humidity and pressure (the temperature entries resolution requires additional configuration).
It is possible to for the panel LB-706 to have installed various types of registry memory. The maximum number of records that can be stored depends on the type of memory and data being registered i.e. in a standard memory version (memory 32 pages) the device can register up to 2600 measurement results: humidity and temperature in an extended memory version (memory 128 pages) more than 10000 measurement results.
The panel is a device designed for processing and visualization of the measurement results. Small size along with being battery powered allow on using it in the field conditions. In stationary conditions the device can be powered from a small power voltage feeder.
The keyboards of the LB-706 and LB-706B panels allow on switching them on and programming parameters as well as browsing registered measurement results.
The panels in versions LB-706G and LB-706GB have simplified keyboards that allow only on switching them on and off. The panels LB-706G and LB-706GB are the newer versions of the panels LB-702 and LB-702B (they replace them fully). Switching from the panel LB-702 to LB-706G or to LB-706 and from the panel LB-702B to LB-706GB or to LB-706B does not require changing a hytherograph LB-701.

Electronic thermometer - hytherograph LB-701 with a panel LB-706x
Hytherorgaph LB-701 cooperating with a panel LB-706 (or with its versions: LB-706G, LB-706B, LB-706GB) is made in a form of a measurement probe, has a cylinder shape and is connected with it using a cable 1...20 m in length. The measurement probe LB-701 includes: a thin layer temperature sensor Pt-1000, thin layer capacitive relative humidity sensor, electronic processing systems and a system of programmed non volatile memory, where all individual probe characteristic are stored as well as the identification and technical data. A replaceable casing, which type depends on what the device is used for, protects the measurement probe sensors. The device in a standard version is equipped with a sensor casing ( anti pollution filter) type F1.
The reading panel LB-706 receives signals that had been already processed that include coded information concerning temperature and relative humidity values. It allows on changeable use of different reading panels with the same hytherograph LB-701 without any influence on the measurement results.
The microprocessor from the device's reading panel, basing on the information from the probe (processed measurement signals and read calibration characteristics) computes the following parameters: relative humidity, temperature, dew point temperature and volume water vapor content in the air. Additionally inside the panel version LB-706B there is a pressure sensor and a precise analog- digital converter. All results (temperature, humidity and optionally pressure) are presented on the alphanumeric LCD screen at the same time (2 lines for 16 characters) and can be sent out using a series port.
Hytherograph LB-701 obtained a certificate of type RP T 95 76 issued by the President of the Central Measurement Office in Warsaw as well as a positive expertise from the Central Army Meteorology Office in Zielonka.
Each thermometer - hygrometer LB-701 (upon a request) can have an individual calibration certificate issued by the LAB-EL Company Laboratory. Barometer (upon an additional request) can have a calibration certificate issued by the Air Force Technical Institute in Warsaw.
The methods used when measuring relative humidity and air temperature using a hytherograph are introduced in the description.
Electronic thermometer LB-701T with a panel LB-706x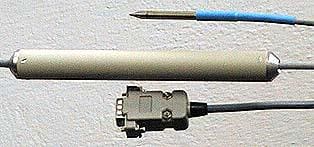 The device is also produced in a version for temperature measurement (thermometer LB-701T with a panel LB-706 or its versions: LB-706G, LB-706B, LB-706GB). The thermometer LB-701T has a measurement converter (in a cylinder case) and an outside temperature sensor Pt1000 (or Pt100) in a standard or special case, adjusted to the individual user requirements (i.e. in a form of a rod from the acid resisting steel, with a special cable). The special version of sensor casing allows on measurement of different values in an extended scope of temperature -200...+550°C). Thermometer LB-701T can be also purchased separately, as additional equipment for the already had set of LB-701/LB-706. The thermometer LB-701T cable length amounts to: between an outside temperature sensor and a converter - 1..40 m, between a converter and a reading panel - 1..15 m (cable length is defined by the customer).

TECHNICAL DATA

TEMPERATURE MEASUREMENT



Device version

Scope of measurement

Measurement inaccuracy

LB-701

-40.. +85°C
+/- 0,1°C, +/- 1 last digit

LB-701T

-40.. +85°C
-150..240°C
-200.. +550°C

+/- 0,1°C, +/- 1 last digit
+/- 0,2°C, +/- 1 last digit
+/- 1°C, +/- 1 last digit

HUMIDITY MEASUREMENT



Measurement inaccuracy

+/- 2,0%
+/- 1 last digit

in the scope of 10.. 90%



+/- 4,0%
+/- 1 last digit

outside of the scope 10.. 90%

Scope of measurement LB-701

10.. 95%
10.. 60%
10.. 40%

for temperatures up to +40°C
for temperatures up to +70°C
for temperatures up to +80°C
Scope of measurement LB-701H
0.. 100%
0.. 70%
0.. 40%

for temperatures up to +60°C
for temperatures up to +70°C
for temperatures up to +80°C
PRESSURE MEASUREMENT (panel LB-706B)

Measurement inaccuracy
+/- 1,0 hPa
in the scope of temperatures 0..+50°C

Scope of measurement
700.. 1100 hPa
in the scope of temperatures 0..+50°C

MEASUREMENT READINGS

Parameter


Scope of readings



Resolution

Air temperature

-40,0.. +85,0°C
0,1°C or 0,01°C

Relative humidity
0,0..99,9%

0,1%

Dew point temperature

-40,0..+100,0°C
0.1°C
Volume water vapor content in the air
0..99999ppm
1ppm

Time
months, days, hrs., min
1 min

Pressure (LB-706B)
700...1100 hPa

0,1 hPa

POWER SUPPLY

Battery

4 batteries R6 (AA)

Network
stabilized feeder 12V DC
ENERGY CONSUMPTION (panel + LB-701)

interface RS232C not active
app. 5,5 mA

interface RS232C active
app. 13 mA

SCOPE OF WORK TEMPERATURES

Device

Scope

Comments

Probe LB-701

-40,0.. +85,0°C



Panel LB-706/ LB-706B

0..+50°C



RECOMMENDED CONSTANT WORK CONDITIONS *)

Scope of temperatures

10..40°C
Scope of humidity
20..80%
Level of environment corrosion aggressiveness accord. PN-71/H-04651

B

Degree of casing protection

IP 60 (limited additionally by the class of filter protection)

*) Going beyond recommended constant work conditions (i.e. when installing the device in the open space) requires using additional protection means for the device's electronic part so that water out dropping does not start inside of the device.
INTERFACE

Series RS232C, 4 lines (RxD, TxD, RTS, GND), switching on the interface power supply - active stage line RTS form a computer, transmission parameters: 9600 bps, 8 bits of information, without the evenness control, 1 stop bit.
INTERFACE FUNCTIONS
Creates a possibility of reading the measurement results, storing the registry parameters as well as the device's adjusting parameters in its non-volatile memory.
OVERALL DIMENSIONS
LB-706: 185 x 100 x 45 mm, LB-701: cylinder, diameter 22 mm, length 180 mm.
EQUIPMENT
power pack,

cable for the interface RS232C,
stand for a probe LB-701,
program "User's Interface" for a PC computer,
4 batteries R6,
OPTIONAL EQUIPMENT
protective cover - hand bag
thermal printer KAFKA –1R
modem LB-430 for radio transmission GSM/ GPRS
EXTENDED VERSIONS

The following versions are available upon a special order:
LB-701H - with extended compared to a standard, range of constant humidity measurement to 0...100%,
LB-701T - in a version only for temperature measurement (outside probe is possible),
LB-701Fn - sensor casing protection version (according to a description), the version is given if it is different than F1,
LB-706G, LB-706GB - simplified keyboard version,
LB-706B, LB-706GB - reading panel equipped in a air pressure sensor.

Other panels
that collaborate with the probe LB-701:
LB-704
,
LB-705
,
LB-725
.
GOOD CLIMATE IS FAVORABLE