RAIN GAUGES
---
---
1. Rain gauge ARG100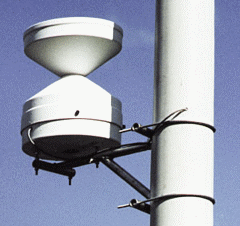 Rain gauge ARG100 is a typical rain gauge built basing on the rule of enclosing a pulsar (reed relay) under the effect of the measurement container overflow. The rainfall is led to a measurement container through a especially profiled bowl. The shape of the bowl in many ways makes the measurement result independent from the wind speed and direction and stays in accordance with the standards of the British Meteorological Bureau. ARG100 was developed in the British Hydrological Institute. The rain gauge construction is based on the materials (resistant to ultraviolet radiation - materials made using the vacuum technique) that allow on obtaining sufficient accuracy, reliability and low price. The device should be fixed on a base (or on a holder on a mast) that assures upright position.
Rain gauge ARG100 is produced by the British company "Environmental Measurements Ltd".
Rain gauge ARG100 technical parameters:

measurement resolution - 0.2 mm (0,2 l/m 2),
collecting face diameter - 254 mm,
height - 340 mm,
weight - 1 kg,
maximum load of the measurement contact - 24VDC/3W/100mA.
2. Rain gauge RG50

Rain gauge RG50 generally works basing on the same rule as the device ARG100. The right construction and correct materials allow on long term reliable work in various climate conditions without the need for the device to be frequently maintained. The rain gauge can be installed at any place that allows on draining the collected water.

Each overflow of the measurement container causes short time circuit closure and the impulses made in this
way can be counted by an outside measurement device ( LB-724, LB-486, LB-741). The inside of the device is protected by a special netlike filter (against foreign objects, insects etc.).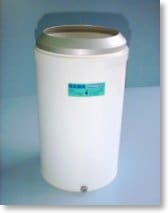 The device is equipped with a stable base with holes to be permanently attached to something. There is a possibility of internal leveling of the rain gauge's mechanism. The device is resistant to corrosion and it does not need to be lubricated. In order to secure the correct way of functioning it is recommended that the device is inspected on a monthly basis (cleaning a funnel, a filter and the measuring mechanism, checking drainage potency, leveling and stage of the mechanism).

Rain gauge RG50 can be equipped with a heater, which is switched on automatically when the outside temperature goes down to 4...8°C. It makes it impossible for ice to form near the measurement entry. The heating power allows for the rain gauge to work correctly even in -20 °C temperatures.
The rain gauge RG50 is produced by a German company "SEBA Hydrometrie GmbH" and has parameters that stay in accordance with the requirements of the Meteorology and Water Economy Institute in Warsaw.
The rain gauge RG50 technical parameters:

measurement resolution - 0.1 mm (0,1 l/m 2),
collecting face - 200 cm 2,
rain gauge diameter - 205 mm,
rain gauge height - 346 mm,
weight - 3,9 kg,
heater power supply - 24V/15W/50Hz,
permissible load of the measurement contact - 24VDC/3W/100mA.
GOOD CLIMATE IS FAVORABLE