METEOROLOGICAL STATION LB-755A
---
functions: hygrometer, thermometer, anemometer, logger
measurement: humidity, temperature, wind speed and direction
small size
simple in use
measurement memory
interface RS-232
battery powered



---
DESCRIPTION
Portable meteorological station - recorder LB-755A is used for visualization and registry of the measurement results made by the collaborating with it measurement devices: hytherograph-barometer LB-715, barometer LB-716 or hytherograph LB-710 and a wind speed and direction transmitter LB-746.
Technical parameters of the station recorder LB-755 are introduced in a separate leaflet. The picture below schematically introduces a cooperation principle between the station LB-755A and the measurement devices: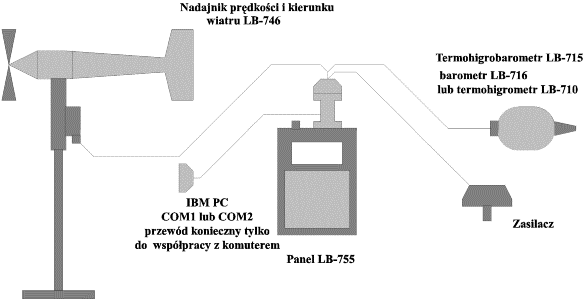 The meteorological station LB-755A allows on reading and registry of the following measured values:
air relative humidity (R) with resolution 0.1 %
air temperature (T) with resolution 0.1 °C
atmospheric pressure (P) with resolution 0.1 hPa
wind speed (V) with resolution 0.1 m/s
wind direction (A) with resolution 1 °
The measurement accuracy of the given values is provided in the instructions of the measurement devices.
The panel LB-755A assures correct work also with only one measurement device connected: LB-710, LB-715, LB-716 or LB-746.