Regulator for substrate production LB-760C
---
functions: measurement, registry, regulation
measurement: temperature, O 2 concentration

competitive price
ready-to-go installations

program LBX for a PC for the Windows systems

---
DESIGNED FOR
Regulator LB-760C with the measurement sensors creates a set for substrate production in mushroom cultivation. It is designed for measurement, regulation and registry of temperature, oxygen concentration and aeration in the substrate fermentation processes using the "indoor" method or during substrate excess growth in mass. The regulator is a stationary device, powered from 230V network made in a form of a panel to be hanged on a wall. The device's construction is based on an advanced microprocessor technique. Controlling the regulator is possible by using a remote control pilot. The solution applied, allows on comfortable regulator control in a place not easily accessible but also increases maintenance security, makes it impossible for the not authorized persons to gain access. All of the measurement results are presented on the easy to read LCD displays.

Each regulator LB-760C is assigned for supervision of only one fermentation or substrate excess growth in mass tunnel. In case of having more tunnels, it is necessary to apply a separate regulator for each one of the tunnels. The regulators LB-760C installed in the separate tunnels, after being attached to a computer of PC type create a shared control-measurement system. At that time a measurement system of O2 concentration is possible (pict. 1), besides a comfortable control over the regulators from a PC computer is possible along with the measurement result collection, creation of their history, scrolling over the results in graph forms of and printing the graphs on a printer. For connecting the regulators with the computer an interface RS485 is used, which assures a minimal number of cables used between the regulators and the computer as well as a great data transmission range (few hundred meters).
CONSTRUCTION

For each regulator LB-760C the following measurement elements can be attached:
Four probes for substrate temperature measurement, allowing on independent temperature measurement in few different locations. The probes are made in a form of rods, what allows on placing them easily in the ground.
Two probes for air temperature measurement supplied under a substrate pile (inlet).
Two probes for air temperature measurement coming out from under a substrate pile (outlet).
Oxygen concentration meter, individual (separate for each hall) or system (one for all the halls or a group of halls).
For each regulator LB-760C the following executive elements can be attached:
Throttling valves for hall ventilation – circulation and fresh air, controlled proportionally using one or two compressed electrically servos.
Frequency converter so called inverter (used for smooth changes in turns) or a contractor (for periodical switch on) of an engine propelling hall ventilation.
Moisture valve, regulating inflow of atomized water (or steam) or in a liquid (a valve with a servo) or an impulse (a valve type switch on/off).
FUNCTIONING

The output regulation signals are controlled by the measurement results obtained in the regulation procedures based on the set values and the actually measured values: an average substrate temperature and oxygen concentration. It is possible to manually program the values of the output signals.

The basic function of a smooth regulated fresh air inflow throttling valve is controlling the temperature of oxygen concentration in substrate. A fan of regulated efficiency, influences temperature adjustment in the whole substrate volume.

The regulator is equipped with an alarm outlet, allowing on signaling the alarm statuses (probe defect, lack of power supply) or improper condition of the substrate parameters. The alarm output can be attached with i.e. a bell, which notifies the staff on duty about an occurrence of an alarm situation.

In case of an installation consisting of a greater number of the regulators LB-760C and of a supervisory PC computer (pict.1) it is possible to apply only one oxygen concentration meter for the whole installation. The air from each tunnel is supplied in cycles to the oxygen meter using a system of valves, pipes and an air pump. The functioning of such a measurement system has to be constantly monitored by a computer – it is a work condition for such installation. Using such a method of CO2 concentration measurement, allows on substantial cost reduction, since only one oxygen concentration meter is required. The regulators LB-760C can work in a common installation with the regulators LB-760A.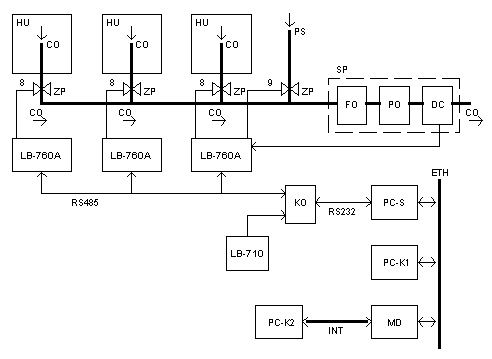 Pict. 1. Example system constituents for three substrate fermentation tunnels "indoor":: HU - tunnel, CO - air uptake pipes, ZP - air valves, KO - converter LB-485, LB-710 - hytherograph for measurement of the outside air parameters, PC - computer with a control program, SP - measurement box containing: FO - draining filter, PO - air pump and DC - oxygen concentration meter.
The construction of the devices and work of their control software was prepared in cooperation with the mushroom growing experts and is constantly developed using data collected in the mushroom growing halls.
Each user of the L-B regulators can perform a free software update of the regulators and a PC control computer. Because of a modern regulator construction there is a possibility of multiple independent program implementation work in the regulators. For such purpose the user downloads using the internet the newest software (or receives it on a floppy disc) that after starting loads the new software work from the PC control computer successively to all regulators. Software DOS for a PC works in a DOS system in DOS emulation in the systems Windows 95/98 as well as in DOS emulation in the Linux system.
At present a new program LBX for a PC is available, which controls work of the regulators LB-760, LB-760A, LB-760C and LB-760D, which works in different Win systems which was developed as an answer to constantly increasing user expectations, appearance of the quality certification HACCP as well as development of computer engineering.
DEVICES' INSTALLATION

Regulators

The LAB-EL company provides as a basic set: regulators LB-760C, temperature measurement probes as well as control software for a computer. As an additional equipment the company provides a converter LB-485, hytherograph LB-710R with a shield LB-719, oxygen meter with equipment for system measurement and screened computer cables (for attaching the regulators with a computer). Purchase of a control computer and a printer should be performed taking into account the closeness of a warrant service in a computer company close to ones place of living. We assure additional service in a form of help in low voltage electric installation and system configuration (connecting the probes, probe calibration, parameter programming attaching and configuration of a computer) and training.
Low installation cost assures active participation of an investor in the installation (mechanic assembly of the devices and cables) usage of the investor's own executive devices.

The price list was introduced at:
http://www.label.com.pl/po/cennik.html
Electric installation of the devices is performed by:
Mieczysław Kwiatkowski, Warszawa, tel. 0601-803380,
"TRELPOL", Zbigniew Trela, Łódź, tel. 0602-199010, tel/fax: (042) 6867225.
The LAB-EL company assures guarantee service (12 months) and a full after guarantee service on the territory of the whole country. The guarantee service does not cover the costs connected with reaching the client unless it was arranged earlier with a person performing an installation.
Ready-to-go installations
The complete ready-to-go system installations in the tunnels, that can include a delivery, assembly and service of the executive devices and the regulators LB-760C (in cooperation with LAB-EL) is performed by the company:

"TRELPOL", Zbigniew Trela, Łódz, tel. 0602-199010, tel/fax: (042) 6867225.
The price offer for a ready-to-go installation can be introduced by the company mentioned above upon request.