Time constants of the temperature sensors
---
Temperature measurement result depending on:


diameter and width of a sensor's wall

temperature jump
speed of mixing

---
Temperature measurement result obtained by using an electronic thermometer with an outside temperature sensor, in a casing made out of a stainless steel pipe, becomes stabilized with certain speed resulting from:

mechanical construction and sensor's casing size,
thermal characteristics of the materials used for sensor construction,
thermal characteristics of a measured medium (medium type),
medium time flow around a sensor.
It means, that after placing a sensor in a measured medium (air, liquid, refined material etc.), which temperature is different from a sensor's temperature by a value "delta u" (on a graph's vertical axis), the sensor's temperature will gradually (unfortunately not immediately) get close to the temperature of a measured medium. A typical course of changes as a result of temperature measurement was introduced on a graph in a time function (on a horizontal axis). Characteristic times for the chosen sensor sizes and for two different media (water and air) were provided in the table below. For different media - time constants usually are going to stay between data for those two media mentioned in the table.

The fact that is worth mentioning is that:

when measuring a medium's temperature without a forced flow (provided in the table), characteristic times are going to be bigger than those provided in the table,

equalization of sensor temperature with a medium's temperature with an error smaller than 1% of a "delta u" jump takes place after time twice as long as the one provided in the table in the columns "T 0,9".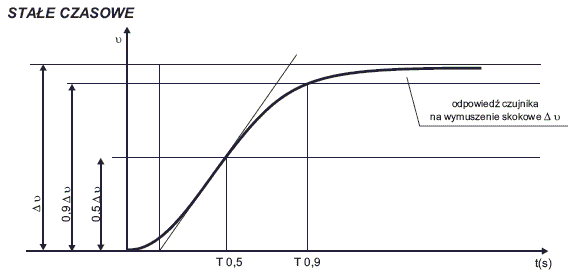 THE SENSORS WITH THE SHIELDS MADE OUT OF THE ACID RESISTANT STEEL PIPES 1H18N9T DIMENSION
(pipe diameter x wall's thickness)

CHARACTERISTIC TIMES (in seconds)

water, flow 0,4 m/s
air, flow 1,0 m/s
T 0,5

T 0,9

T 0,5

T 0,9

3 x 0,25

7

19

35

95

4 x 0,35

12

32

45

125

5 x 0,35

17

45

70

190

6 x 0,35

22

61

80

235

8 x 0,60

27

72

105

310

10 x 1,60

35

96

140

375

12 x 2

51

138

165

420