THERMOMETER - HYGROMETER LB-710 (LB-710H)
---
functions: thermometer, hygrometer (humidity meter)
measurement: temperature, air relative humidity
wide scope of work temperatures

two cable connection

digital result transmission to long distances
resistant and dust proof casing
optionally measurement results provided in:


dew point temperature

humidity content

absolute humidity

---
DESCRIPTION
Thermometer - hygrometer LB-710 is designed for air temperature and relative humidity measurement in rooms. It can work in places where there is great dustiness since it has a hermetic casing and an adequate filter that protects the measurement sensors. It is a stationary device, of small size, powered from an outside power supply.

For measurement the device uses data from the temperature sensor Pt-1000 and from the capacitive relative humidity sensor. Basing on the knowledge of nonlinear sensor characteristics and digital calibration data stored during the calibration process in a device's memory - the microprocessor (built-in the device) counts the actual relative humidity and temperature measurement results. Those results are sent (in a digital form) from the device to a supervisory system of data collection.
The device is equipped with a digital current interface and its time course is analogous to the standard RS232C. Such interface beside data transmission is also used for powering the hytherograph - using two-cable connection for this purpose (type used when installing telephones), but the polarity of attaching the interface's cables is optional.
The device can be attached to any supervisory system i.e.: climate regulator LB-722, concentrator LB-731, LB-473 (creating a monitoring system), panel LB-755, converter LB-486 or (using a converter LB-371) to the interface RS232C of any computer. It allows on remote control and automatic measurement data collection. It is possible for the humidity measurement results to be displayed using an additional PC program (which is included in the standard LAB-EL equipment) using such values as: dew point temperature (in C), humidity content (g/kg) or absolute humidity (kg/m3). The device's interface output in the LB-710 version is made in a form of screw terminals placed inside of the casing to which a cable is led through a pass 7 mm in diameter. In the version LB-710Z the device has a SzR14 type connection.
The device does not have any mechanical calibration elements (i.e.: potentiometers). Thermometer - hygrometer calibration is performed by sending calibration data obtained in the model climate conditions through a digital interface to the device's non-volatile memory. It guarantees comfort and high calibration accuracy as well as stability of the device's meteorological parameters in time.
Thermometer - hygrometer LB-710 can be made in a special "S" version (in a silicone filing compound) what makes the electronics resistant to high humidity. Independently from the ("S") type version the device cannot be exposed to direct precipitation and out dropping water vapor. That is why in the open space it is recommended to use LB-710R version of the device (i.e. in a meteorological cage).
The standard version of the device (without a silicone filing compound) is adapted for short (up to few hours) measurement at the edge of the scope of measurement. Except from that the device should be kept in recommended constant work conditions. The device in a standard version is equipped with a sensor casing (pollution filter) type F3.
Each thermometer - hygrometer (upon a request) can have an individual calibration certificate issued by the LAB-EL Calibration Laboratory, the Central Measurement Office in Warsaw or from the Central Army Metrology Center in Zielonka.
Thermometer - hygrometer LB-710 received a certificate of type RP T 95 77 issued by the President of Central Measurement Office in Warsaw.
Thermometer – hygrometer LB-710M *) (version in a metal casing) is a part of the set LB-720 used for control of dynamic air drying (DOP) LB-720. The set meets Tactical and Technical Requirements for controllers DOP approved by the Administration of the XV General Headquarters of the Polish Army, in accordance with the expertise performed by The Central Army Meteorology Office in Zielonka.
TECHNICAL DATA
TEMPERATURE MEASUREMENT

Measurement inaccuracy
+/- 0,1C
+/- 1 last digit
Scope of measurement
-40..+85C
HUMIDITY MEASUREMENT

Measurement inaccuracy
+/- 2,0%
in the scope 10...90%, +/- 1 last digit
+/- 4,0%
outside of the scope 10...90%
Scope of measurement LB-710
10..95%
for temperatures up to +40C
10..60%
for temperatures up to +70C
10..40%
for temperatures up to +85C
Scope of measurement LB-710H
0..100%
for temperatures up to +60C
0..70%
for temperatures up to +70C
0..40%
for temperatures up to +85C
MEASUREMENT READINGS

Parameter

Scope of readings
Resolution

Air temperature
-40,0..+85,0C
0,1C, optional 0,01C
Relative humidity
0,0..99,9%
0,1%
RECOMMENDED CONSTANT WORK CONDITIONS *)
Scope of temperatures
0..40C
Scope of humidity
20..80%
*) Going beyond recommended constant work conditions (i.e. when installing the device in the open space) requires using additional protection means for the device's electronic part so that water out dropping does not start inside of the device (protecting the electronics with silicone or using an additional outside casing).
POWER SUPPLY, TECHNICAL DATA
Scope of voltage

8..24V DC
Energy consumption
4mA
average
25mA
maximum
Casing overall dimensions

170 x 64 x 35 mm
Material

plastic material (polymas, ABS)
Level of casing protection

IP 65
limited additionally by the class of filter protection
INTERFACE
Transmission parameters: time in accordance with RS232C, 300 bps, 7 information bits, without the evenness control, 1 stop bit working in a standard of a digital current loop.
EXTENDED VERSIONS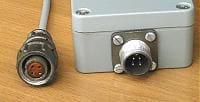 LB-710Y with
attachment link SzR14
The following versions are available upon a special order:
LB-701H - with extended compared to a standard, scope of constant humidity measurement to 0...100%,
LB-710S - increased resistance to climate conditions (in a silicone filing compound),
LB-701Fn - sensor casing protection version (according to a description), the version is given if it is different than F1,
LB-710Y - with with attachment link SzR14 (instead of the screw terminals inside a casing).
GOOD CLIMATE IS FAVORABLE