HUMIDITY METERS WITH A CHILLED MIRROR
---
laboratory air humidity samples
extremely wide scope of humidity measurements (0,003...100%RH, -95...+95°C DP)
possibility of gas measurement under pressure (optionally up to 10 bar)
high accuracy (RH 1%, 0.1°C DP)
Swiss precision



---
Operation principles
A hygrometry with a chilled mirror is a method of gas humidity measurement through dew or frost point temperature measurement (described below). A light source sends a ray to a polished mirror surface - its temperature is controlled by a heat pump known as a Peltier's element. A photosensitive receiver measures the ray's of light intensity, which is reflected from the mirror. When the mirror is clean and dry the reflected light's intensity is maximum. On the contrary, cold mirror layered with frost or water steam condensed on its surface, diffuses the light, what results in diminished signal value from the light sensitive element. Using this signal as feedback in a closed regulation loop allows on controlling the mirror's temperature in such way so thickness of the condensed layer is constant. The condensed layer of fixed thickness stays in dynamic equilibrium with gas surrounding the mirror. In this equilibrium the dew or frost point temperature is defined by the measured mirror temperature. If the condensate is in a liquid form (even for the temperatures below water freezing) then the mirror temperature is the same as dew point temperature. If the condensate is in a solid form (ice or frost) then the mirror temperature is taken for the frost point temperature.


Offer
Our offer includes humidity meters with a chilled mirror produced by MBW Calibration Ltd. (Switzerland) - models designed especially for precise laboratory measurements, for other hygrometers' calibration and for the measurements of very dry gases. The technical specifications, mechanical construction, additional functions and their destination were introduced for each one of the models in separate leaflets.

TYPE
SCOPE OF DP MEASUREMENT
FEATURES
PICTURE
373
-95..+95 °C (in different versions)
Humidity standard
Hygrometer calibration
Precise laboratory measurements
Dry gases measurement
Graphic, color LCD screen
Full automation
973-SF6

from -60 °C
Filed measurements (portable device)
Dry gases measurement
Measurements in SF6
Digital readings

473
-20..+70 °C
Filed and laboratory measurements,
external measuring head

Humidity Measurement Products Comparison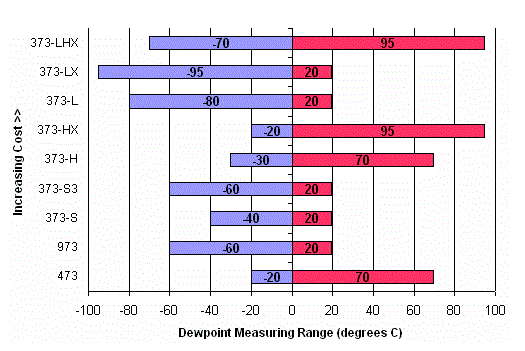 Producer:
MBW Calibration Ltd.
Seminarstrasse 57
CH-5430 Wettingen
Switzerland
GOOD CLIMATE IS FAVORABLE